Madrasah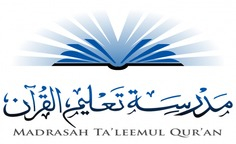 Madrasah Ramadhan Timings
Mon 4th April - Thursday 7th April - 5PM - 6:25PM
Friday 8th April - Thursday 14th April - 5PM - 6:15PM
Parents should ensure children are picked up on time

The car park will be closed for parents when picking up children.
---
Our Madrasah/Maktab classes run during the weekdays for boys and girls from 5PM-7PM. All students are taught in classes according to their ages by qualified teachers.
The syllabus consists of Qaaida, Quraan, Dua's and general islamic studies which encompasses Aqaaid (Islamic Creed), Seerah (biography) of our beloved Prophet Muhammed SAW, Fiqh (Islamic jurisprudence) and Tareekh (History).
Madrasah Student Diary
The Madrasah diary has been initiated to ensure daily communication between the childs teacher and the parent is occuring. Any issues or questions in regards to your child, please use the parents comment section in the diary.
Parents are also encouraged to help children perform theri daily salaahs at home and keep record of them via the diary.
Could all parents please ensure they are checking their childs diary on a daily basis and please sign the diary.

Daily check the punctuality of your childs attendance and behaviour/effort in Madrasah
Contact Details
Phone - 0208 985 8204 (Only call between 5PM-7PM)
New Applicants
Please fill out new Madrasah student application via the link below