Your Doubts Answered - Brothers Classes 16+
Mufti Yasir Zaman Sahib - Every Sat 11AM-1PM - Starting 2nd October 2021
2 Oct 2021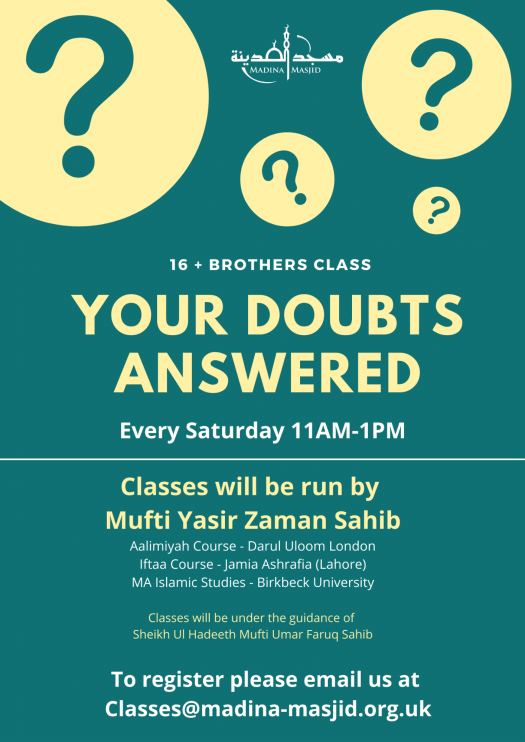 Asalamualaikum Wa Rahmatullahi Wa Barakatuh,
The madrasah Committee, along side Mufti Umar Faruq Sahib and Mufti Yasir Zaman Sahib, have set up a specific class for brothers 16+, aiming to clarify any doubts circling in society today. Our aim is that our young adults are educated by Qualified and reliable scholars in regards to whatever doubts they may have in present or come across in the future. The objective is to equip young adults with the correct knowledge and understanding, allowing them to be proud of their deen and represent our beloved deen in which ever sphere they are in.
The classes will run on Saturdays from 11AM to 1PM in Madina Masjid. (Times will change during Ramadhan)
The classes will be lead by Mufti Yasir Zaman Sahib, who is currently the Head Chaplain at NHS Homerton Hospital. Mufti Yasir Sahib has studied the full time Aalimiyah course at Darul Uloom London, Iftaa Course in Jamia Ashrafia (Lahore) and also completed his MA in Islamic Studies at Birckbeck University.
The classes will be under the guidance of Sheikh ul Hadeeth Mufti Umar Faruq Sahib.
We encourage our young adults to attend and take benefit from the classes.
The classes will be in English.
All brothers who would like to attend will need to register by emailing their full name to classes@madina-masjid.org.uk
Jazakallah
Back